Open Source Music
Except as noted, works on carlaz.com linked from this page are licensed under a Creative Commons License. See my Licensing Information page for details.
---
Twa Corbies - MP3 - Lyrics (RTF)
This is a "folk metal" version of the Scottish border ballad "Twa Corbies". The lyrics are traditional (originally collected without a tune), here based on those found in Sir Walter Scott's collection Minstrelsy of the Scottish Border. The music is also largely traditional, based principally Breton tune called "An Alarc'h" ("The Swan", first published in 1839 in Hersart de Villemarque's Berzaz Breiz). Both words and music are perhaps likely to be some centuries older than their collection/publication dates, but who knows? At any rate, they were first combined in the 1960s by Maurice Blythman (aka Thurso Berwick) or Ray Fisher (or both); the marriage was first showcased Fisher's 1962 recording on Far over the Forth (from which Amazon.co.uk has a Real Audio sample). This recording that went on to inspire the versions by artists such as Steeleye Span, Boiled in Lead, the Old Blind Dogs -- and now me! :)

For my version, besides generally rocking it up with a kind of "late Sabbath" vibe ;) I've added a short bridge-like riff of my own composition that occurs after some verses. My recording also uses the samples crows.flac by aesqe and Wind_Howling_Nighttime.aif by Dynamicell; at the time of writing, these samples are available under a Creative Commons License.

I'm honoured that on 03 March 2008 a lecture entitled "Border Ballads, Past and Present" by folk-music researcher and professional singer Poppy Holden for the Music in the North East and Borders module of the International Centre for Music Studies, University of Newcastle upon Tyne quoted my version of "Twa Corbies" as an example of living border ballad tradition. Traditional music will never die: it just gets louder! :)

Afterburner - MP3 - lyrics (RTF)
Straight-up space-rockin' and shamelessly derivative in a Hawkwind-meets-Kyuss-and-Monster-Magnet kind of way .... And so, quite good fun! :) The original recording was recorded this on my beloved Roland VS-1680 and was basically "unmixed": just the guitar, bass, vocal mic, and very rudimentary drum machine part piped straight into the deck (and, uh, back out through the monitor jacks to the laptop to make the MP3!). During the early 2000s, I played the song live many times with the The Hibachi Dealers (a version from 2004-09-05 -- audio and video! -- is on my Hibachi Dealers page). The Dealers' guitarist Mark Wooding also recorded his own demo version. I always meant to record a new version myself, making several abortive starts in GarageBand, and though I altered the main riff slightly to a version I liked better, I never got guitar/bass sounds that I liked as much as the ones recorded with the VS-1680's COSM amp sims.

When I left England for South America, I couldn't take the the VS-1680 (sniff!), but I slurped all its recordings off to GarageBand. The new version is a remix of the original (using the original riff, and even the same rough vocal track), with new drums, a different ending (made by hacking up the original one!), and "guest synths" played by my good friend Scott "Dr. Space" Heller (currently Øresund Space Collective and formerly live with Denmark's now-defunct Gas Giant). Perhaps I'll eventually find the magic guitar/bass sounds that inspire me record a whole new version, but for now I'm happier than ever with this one. :)

Words to the Wind - MP3 - Lyrics (RTF) - Drums (.dbsong)
This was always my favorite Ossian's Ride song; though credited democratically to the whole band, it was basically my music and Darcy's words. I love the main riff (if I do say so myself), and even trotted it out to be played instrumentally in Das Ludicroix's set at the Strange Daze 1999 festival. So I'm pretty pleased to at last be getting a new version of the song put together. Admittedly, it's a work in progress. The guitar solos were tossed off hastily between mouthfuls of cereal at breakfast, while the (not very good) vocals were quickly slapped down at lunch (while the neighbours were far, far away ;) The current version uses the sample spaceship.aif by fonogeno; at the time of writing, this sample is available under a Creative Commons License. It's all pretty rough so far, but I like the vibe.

Hassan I Sabha - MP3
This is a cover of the classic Hawkwind track. I did it all in GarageBand: the guitars/basses/vox are all me, and everything else is free Apple or 3rd-party loops (except for a few audio samples that I shamelessly slurped off the Internet). So, it probably violate all kinds of copyright regulations, and if anyone official asks me to take it down, I will. But it was done for fun, isn't for sale, and seems strangely appropriate in the current socio-political climate (much as it did in the '70s, I suppose!). Natch, if you like this one, you should go buy all the various official Hawkwind versions. There: I can't say fairer than that about a cover version!

On the Hill - MP3
I think of this as "Black Öyster Tull" but, to be brutally honest, it's more sub-Spinal-Tap :) This version produced as a "song-learning demo" for the Hibachi Dealers (who played it live on various occasions), and it was arranged to suit the band. I intend to revisit the song sometime and redo it just to suit me! There's also an older version recorded on my VS-1680 power-trio style: just guitar/bass (tuned down to D), drums, and (extremely dodgy) vocals. Both versions have drums programmed in Doggiebox, the old version with ns_kit7 (free) but the new version with ns_kit7 (full).

Tam Lin - MP3
A partial demo for an "epic metal" arrangement of the famous Scottish border ballad (Child 39). It's definitely unfinished: at the moment, the story only reaches the point where Tam reveals that "the Queen of Fairies, she caught me when from my horse I fell" -- and it's already over six-and-a-half minutes long. Recorded in Garageband, though the guitar and bass amp models are courtesy of some Amplitube plug-ins, and the drums were programmed in Doggiebox with the old ns_kit7 samples. My version of the lyrics is kind of a mash-up of various attested variants; the music is mostly my own, though it references bits of the arrangements made famous by Fairport Convention and Steeleye Span. It's gonna be huge and bombastic as all get out by the time I finish it! :)

Luna (Apple Software Instrument Demo) - MP3
I starting sketching out a kind of folk-prog-metal song in honour of my new daughter, Luna before she was born (22 December 2009), but failed to get beyond a sketch of basic verse-chorus structure using entirely the Apple Software Instruments (like MIDI, basically) built into Garageband. Now that Luna's here, who knows when I'll get any further -- so this is what there is for the time being!

The Colour Out of Space - MP3 - lyrics (RTF)
I wrote this song (based on the H.P. Lovecraft story of the same name) originally for Ossian's Ride, but we never really rehearsed it, and I didn't even manage to record during in the Scylding sessions. Now, at long last, the awful truth can (begin to) be told! :) I've done bits of recording for this using both the VS-1680 and GarageBand; the version here is from the latter. So far, I'm pretty happy with the opening verses: the sloppy placeholder guitar solo has an OK vibe and the vocals are, well, as good as I could manage off-hand! (I think I might be able to improve on them now.) But then things kind of drift to a stop, so I need to sort out what happens there in the middle (where the piece currently "ends"), after which there'll be a return to the riff/verse/chorus thing to wrap things up .... But it's a start!

Over the Wine-Dark Sea - MP3
The missus and I went off for a cruise in the Eastern Mediterranean last summer, sailing επι οινοπα ποντον, filling our heads with history and archaeology, and seeing lots of cool ancient stuff. ("A time when much of the world looked like the cover of the Led Zeppelin album Houses of the Holy .... Many steps and columns .... Most tranquil!" as Bill & Ted so cogently observed.) Anyway, I came up with this riff to form the core a bombastic "epic metal" song drenched in that vibe (or at least how I imagine that vibe!). Right now, it's just double-tracked guitars over a drum-loop and some synth wash, all done in GarageBand. There's not even any bass yet, nor any lyrics, though I have some ideas for a pseudo-acoustic intro ....

Jumpgate - MP3
I've run into a lot of space-rock-influenced musicians on the web recently, though many seem to being going down the path of electronica than of good ol' blanga. So I decided to sit down with some drum loops from BetaMonkey Drum Werks VII and GarageBand and see how fast I could kick out some no-frills space-rock. A few hours later, I had this :) It could use some more arrangement and some vocals, but there's the nub of a song in there! Fun to play, too :)

Anvil of Ice - MP3
Having access to a MIDI keyboard is very dangerous -- it brings out my (not very deeply hidden) penchant for the pompous and wildly overblown :) This is another GarageBand experiment, mostly a synthy intro that just about gets some riffs going before it tumbles to a halt. Just need to find the time to stack up more riffs and pretentious noises in a kind of "Amorphis meets The Gathering" way. ;) Pre-emptive apologies to the excellent Mike Scott Rohan for having nicked his cool title. (You should go read his book, since it's much better than my music :)

Come Away - MP3
I started humming this while walking home, and after a few short sessions with GarageBand scattered over a weekend, I've got the makings of a song. Its all loops, really -- some stock Apple or free 3rd party, and some played in myself with basic GarageBand presets. Plus, it has a synthetic church bell -- what's not to like!? :) All I've got to do now is write some words and record the vox sometime! No idea why I named it "Come Away", though ....

Bad Man - MP3
This came out of a jam on the main riff from ye olde Grand Funk Railroad classic "Sin's a Good Man's Brother", but then changed into something else along the way. So I've appropriated it as my own and dubbed it "Bad Man". This somewhat embryonic version was recorded in GarageBand with a stock Apple piano loop as the intro, then power-trio style guitar and bass with drums from Doggiebox. From its current ending, point I plan for it to launch into a rockin' groovin' jam before ultimately returning to the big main riff.

Thunderbird - MP3 - .dbsong
This demo is just one guitar and one bass (both very rough sounding) a Doggiebox drum part. I like the riffs (which I came up with back in the Ossian's Ride days) but need to tweak the arrangement a bit ... and write some words!

A Touch of Doom - MP3 (demo)
This is a brief clip I made for the Bare Knuckle Pickups "Players" forum as a demo of the Crawler humbuckers I put in my Gibson LP Standard in early 2006. I had been listening to Tony Iommi riffs all day, so I tuned down to C# and hammered this out. It's just double tracked guitars over drum loops (no bass), and I've no idea whether I've actually ripped off an existing Iommi riff or whether it's just an amalgamation "in the style of", but it was fun to play! I oughta do something with it some time ....

Energy - MP3
This is a kind of initial musical sketch for a hippyfied, uptempo rocker. The semi-jangly intro is two guitars here, though it could become guitar/piano .... I'm not totally sure if it will not mutate some more, yet. The verse is gonna kinda pedal on D and C (at the moment, this is indicated by a continuing loop of one of the intro riffs). The pre-chorus climb and 5-4-1-ish chorus were kind of hastily slammed out and tacked on, but they give the idea. In my mind (though not in the sketch) there will be a kind of "modal descarga" in the song's middle that will lead back to the intro riff before a final verse/chorus. So there's some way to go yet :)

Coco Loco - AAC/M4A - MP3 - (zipped GarageBand project)
I wanted to make some kind of "gringolatino" jammin' party music. Having (obviously) no experience at this :) it was GarageBand to the rescue! This track was the first thing I did with Apple GarageBand and is made enitrely with stock Apple loops that shipped with the original version, unadulterated except for some twiddles to change the software bass from acoustic to electric and the additon of a couple of single percussion hits. I left space on it for eventual vocals and guitar stabs, widdles, and solos (the cheezy sax parts are sort of guitar stab placeholders) but haven't yet taken it further. When I played it for my (Colombian) wife, she exclaimed "¡Es como la música de CHiPs!". And she kinda has a point :)

SuperCat - MP3
These are just some riffs I recorded quick'n'dirty straight onto my laptop via the onboard microphone. Still needs drums, lyrics .... to be turned into a song, basically :) And having recorded it a couple of years ago, I now have no idea why I named it "SuperCat"!

Sugar'n'Spice - MP3
No, I have no idea how this got its name either. Needs drums, lyrics, a reason for its existence, etc.
---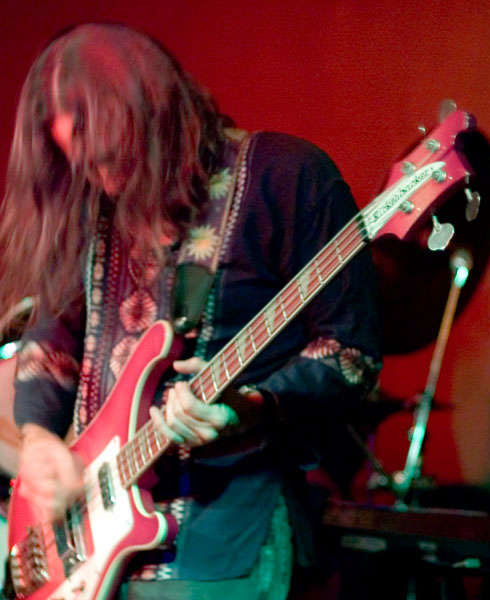 Born

1971
Huntington, NY,
USA

Residence

Colombia

Nationality

US/UK

Genre(s)

Rock Music
Psychedelic Rock
Progressive Rock
Folk Rock
Space Rock
Latin Rock
Jam Band
Heavy Metal

Affiliation(s)

Ossian's Ride
Scylding
Das Ludicroix
The Hibachi Dealers

Notable Instruments

1992 Gibson Les Paul Standard
1976 Rickenbacker 4001
Martin Backpacker Mandolin

Years Active

1993-present
Bogotá, Colombia
Cambridge, England
Stony Brook, New York