El Sabado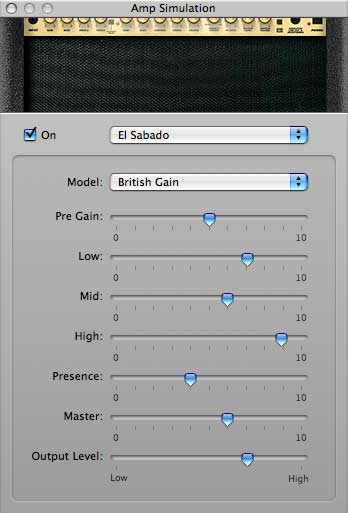 This is an guitar amplifier preset that uses the standard "British Gain" model. As you might guess from the name, it's sort of loosely inspired by Tony Iommi's tone. It sounds much heavier than the stock "Classic Rock" preset, but less grindy and buzzy than the "Metal" preset (though, I think, fatter and more crushing. Good stuff.
You can hear "El Sabado" rocking away on some of my home demos like "On the Hill", "The Colour Out of Space", "Over the Wine-Dark Sea, and ""Bad Man"". I think it sounds all right for an amp sim!
Presets of this type are stored as .pst files. You can download a zipped copy of my "El Sabado.pst" file. Copy the unzipped .pst to the appropriate place in your GarageBand install, which should be [PATH-TO-"Instrument Library"]/Instrument Library/Plug-In Settings/Amp Simulation/El Sabado.pst
In case that's too technical, click the somewhat scrunched screenshot on the right. The image shows the settings I used for "El Sabado", so you can just mimic them by eye!