Since my "studio space" is actually just the main room in our tiny apartment, my goal is to create the most compact home studio that I can, built around what I've got. Nuthin' fancy, just some kit to let me make some music.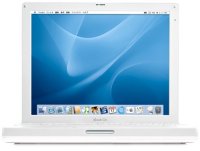 Macintosh G4 iBook
In some ways, my home studio revolves around the iBook. At the very least, I can use the excellent Doggiebox drum machine to control the VS-1680, or I can just crank out a quick demo in GarageBand. Speaking of drums, the iBook is also home to the astounding ns_kit7 drum sample library (there's a free version, too) which has more drum sounds than one can ... well, shake a stick at!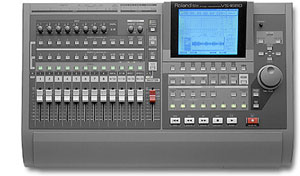 Roland VS-1680
Sketching out arrangements quick'n'dirty in GarageBand or Cubase works very well, but the VS-1680 remains my "power" recording equipment. It sounds great and has got pretty much everything you need right there inside it. What's not to like? :)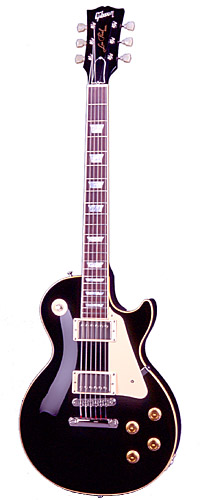 Gibson Les Paul Standard (Ebony, 1992, Serial No. 90932420)
Made on 03 April 1992 (Production No. 120) in Nashville, TN, USA, I got it second-hand from Mr. Music in Allston, MA in 1994. In early 2006 I hot-rodded it with new Bare Knuckle pickups (Crawlers) and a push-pull pot that coil taps both pickups (installed by the Machinehead guitar shop in Hitchin, UK. I string it with GHS TNT Boomers. One of the tuners (non-original vintage-style Klusons added by a previous owner) seems to be going wonky, so I'm thinking of replacing all the tuners with something more robust.

Rickenbacker 4001 (Cherry-Glo, 1976, Serial No. PD2427)
Made in April 1976, I got this second-hand in 1995 for like 500 bucks and it rules. There's a cut-out switch (installed by the previous owner) to bypass the capacitor on the bridge pick-up (a Bartolini) for more low end. A new bridge pickup (actually a bastardized Seymour Duncan Quarter-Pounder Telecaster guitar pick-up!) was put in by the justly legendary Jim Mouradian (a totally cool luthier in Porter Square, Cambridge, MA). I string it with Dean Markley (Blue Steel) medium lights.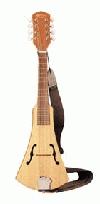 Martin Backpacker Mandolin
I picked this up one year at the Telluride Bluegrass Festival and can sort of play it ... a bit! I haven't found a song to use it on yet, or figured out how best to record it (mic'd? acoustic pickup?), but I will, eventually. It sounds a bit different compared to a "normal" mandolin, but I kind of dig that. And it's very compact :)