For those about to download, we license you! The music linked from this page is free to share under a Creative Commons Music Sharing License.
Rock on!

Das Ludicroix was the brainchild of late, lamented Larry Boyd (who drummed on my Scylding recordings). Surrounding himself with a loose guild of musicians -- sometimes including myself -- Larry led Das Ludicroix to a series unlikely triumphs that would be indistinguishable from disaster apart from the cheering and applause. And that's what makes the difference. I think maybe two recordings exist of Das Lud playing actual, identifiable songs. Otherwise, we were sonic nomads in search of that perfect, blazing, incandescent wall of sound.
I first played with Das Ludicroix at a party in March 1995, and "Buzz Bomb" (MP3) was recorded then. The personnel on-board that night were: Larry Boyd (drums), Ian Souther (guitar), Carl Anderson (guitar), Mike Chesk (bass), Prett Woodburn (guitar). I think this is one of the recordings that was released (!) on a split cassette with the band Wrong.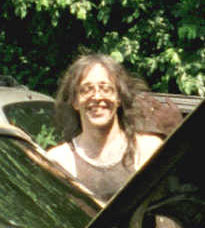 I played with Das Ludicroix several other times during the summer of '95, but went to England that autumn for graduate school, which pretty much put me out of Das Lud's Boston-area theater of operations. But they never stopped rockin', and "Kimota!" (MP3) is from 1998. Personnel on board for that track are (I think!): Larry Boyd (drums), Ian Souther (guitar), Ron Scott (bass), Collen O'Toole (tamborine).
No sooner had I returned to the States in July of 1999 than I got the call to join Das Ludicroix at that year's Strange Daze festival in Ohio ....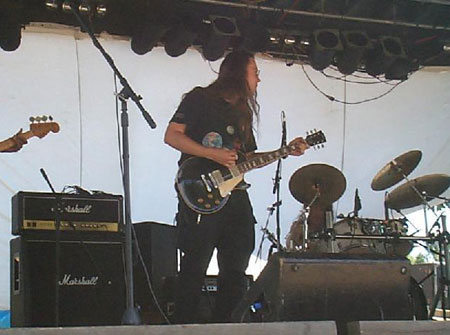 "... the sound of early day Space-Ritual-era spacerock." Or so Jim Lascko (Strange Daze festival organizer) described our set at Strange Daze '99. Considering the fact that quite a lot of us had never actually played together before, I'll accept the compliment! :) I think another cassette release may have come out of this, possibly Jammed and Stoning, but these things were never that clear to me!
Alas, I think Das Ludicroix only made one more public appearance, at the Mandelbrot Sets 2000 festival in Hartford, CT (joined by my sister Chris on synths and flute, who also played with Scylding . That fall, I returned to England, and shortly after Larry was diagnosed with a degenerative brain disease; he died a few years later. Without knowing it, the world lost a rock warrior extrordinaire, a damn fine drummer, and an all around good guy. Rock on, Larry ... and all who sailed with you!
Here's another MP3 called "Moon Healing Activation" (because Larry became a huge Sailor Moon aficionado for some reason!). But I'm afraid I can't remember where this was recorded or who played on it!
For some years Larry played with the (occasionally) legendary Massachusetts band Disarray. I kind of saw a reunion line-up of them once, and several Disarray members performed with Das Ludicroix (though I was never entirely sure which ones!). Anyway, here's a a Disarray ad and some Disarray tix for your viewing pleasure.