Carl grew up on a musical diet of folk, jazz, and classical music, before succumbing to the heady glories of rock-and/or-roll in a teenage daze.
Some of Carl's recent recordings can be found at:
Since 2012, Carl has been recording with Espada Negra, a project founded together with Andy Gilham and inspired by cult UK space-metal band Mournblade. You can find Espada Negra's music at:
From 2004 to 2006, Carl played bass with The Hibachi Dealers, a band made up primarily of work colleagues based in Cambridge, UK and that gigged extensively around East Anglia. A grainy mobile-phone video a 05 September 2005 performance of Carl's original song "Afterburner" by The Hibachi Dealers at Granchester Meadows can be seen on Youtube.
In 1995 and again in 1999-2000, Carl played with Das Ludicroix, brainchild of late, lamented Larry Boyd. Surrounding himself with a loose guild of musicians -- sometimes including Carl -- Larry led Das Ludicroix to a series unlikely triumphs that would be indistinguishable from disaster apart from the cheering and applause. And that's what makes the difference. Maybe two recordings exist of Das Lud playing actual, identifiable songs. Otherwise, they were sonic nomads in search of that perfect, blazing, incandescent wall of sound. There are a few articles/reviews mentioning Carl's appearance with Das Ludicroix at the Strange Daze 1999 festival:
In 1995, Carl formed Scylding, a band hastily thrown together before he left Boston, USA for graduate school in the UK to record some songs that Ossian's Ride (below) had not managed to get down. Joining Carl were the late, lamented Larry Boyd (drums), Tania Burchell (vocals), David Kuznick (synth-fish!), and Christine Anderson (additional synths/samples). Several Scylding tracks were played on the MIT and Oberlin College university radio stations.
Between the second half of 1993 and mid-1995, Carl played in Ossian's Ride, consiting largely of other recently graduated friends from university. Some promo CDRs were pressed (back when that was new and expensive tech!) with the glorious, if unwieldiy, title Heavy Celtic Space Punk.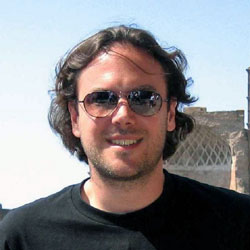 Born

1971
Huntington, NY,
USA

Nationalities

US
UK

Residence

Chía, Colombia

Genre(s)

Rock Music
Heavy Rock
Space Rock
Psychedelic Rock
Progressive Rock
Folk Rock
Jam Band
Heavy Metal

Affiliation(s)

Ossian's Ride
Scylding
Das Ludicroix
The Hibachi Dealers
Espada Negra

Notable Instruments

1992 Gibson Les Paul Standard
1976 Rickenbacker 4001
Martin Backpacker Mandolin

Years Active

1993-present